Multi-Fandom – Babyskin Tattoo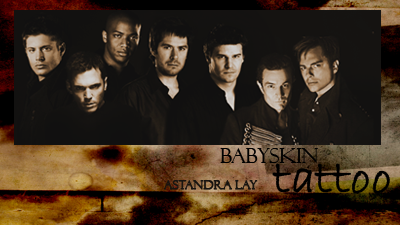 Artist/Song Title: David Usher – Babyskin Tattoo
Vidders:
xandra_ptv and
astartexx
Fandoms: AtS/BtVS, Deadwood, Dexter, Firefly, Friday Night Lights, Heroes, House, Life, Life on Mars, Lost, Supernatural, Torchwood, Veronica Mars, X Files
Theme: male slash
Warnings: Spoilers for aired episodes, a smudge incest and raw aggression
Summary: Circumcised myself because I knew you'd be too busy and I saw the knife was dull, just why the fuck do you think I'm crying? A gentleman is one who never hurts anyone's feelings unintentionally. (Oscar Wilde)
Format: 720×400, 36.8 MB DIVX, mediafire, megaupload, sendspace, permanent download link 1, permanent download link 2 or watch on imeem, watch on youtube

Notes From Astarte:
So our first vid collaboration for public consumption is done and unsurprisingly it is a multifandom male slash mash-up with subtext and violence. Because we're unhealthy like that and we love our men paired up just the same way. Or how Xandra put it, 'Just call it slashtastic and cracktastic, we don't need to write an essay about it.'
The thing is? I really would like to write an essay about it – because there are beautiful circles going on till I felt dizzy. Maybe the vertigo has to do with the fact that we started this vid together with this community and I'm not used to supersonic vidding. But I was afraid that Xandra would steal my parts, if I leave them blank for too long. Have I mentioned unhealthy?
Tags: Astandra Lay, Astarte, AtS/BtVS, Deadwood, Dexter, firefly, Friday Night Lights, guyslash, Heroes, House, Life, Life on Mars, Lost, Multi-Fandom, Supernatural, Torchwood, Veronica Mars, vid, X-Files